The ParentPortal Help Desk provides assistance to parents and/or guardians with the MiStar Parent Portal.
Who can access to the ParentPortal?
Only a student's Primary Contacts are given ParentPortal access. Primary Contacts are parents (biological, foster, and adoptive) and Legal Guardians (with guardianship documentation). All other contacts (including step-parents, other adults) who do not fall within the description above, are now Emergency Contacts with no ParentPortal access.
If you previously had ParentPortal access and you are a step-parent or other adult that does not fall within the Primary Contact requirement, your ParentPortal access was disabled.
Primary contacts that do not know their ParentPortal log in should follow the steps below under the heading "To request your password using our automated system" to obtain a PIN and password.
NEW! Updating Contact Information
Parents and guardians can also update their contact information (phone numbers and e-mail addresses), as well as their students' primary phone number directly by logging in to the MISTAR ParentPortal. The student's primary phone number is used by the district's parent notification system (Edulink) to alert parents of snow days, attendance issues, building updates and other important messages. (Note: Parents can also opt NOT to receive snow day notifications via Edulink, while continuing to receive other important school and district-wide news and information.)
To update information:
Click on the "My Information" link at the top right of the page.
Update the fields you would like changed, and click the "Submit" button on the top left of the page.
The change will be flagged as pending until approved by school personnel. Please allow up to five days for the changes to be approved.
New Families to Northville Public Schools
If you provided an email address during the enrollment process, you should receive an email from parentportal@northvilleschools.org with your PIN and password. If you do not receive an email, please check your spam folder before emailing the help desk.
If you did not provide an email address, we can mail you the information needed to log in. Please send an email to the Parent Portal Help Desk by clicking "Send Email" below the image on the right. Fill out the email form. Please include your students name in the email comments section along with any other information regarding your request.
To request your password using our automated system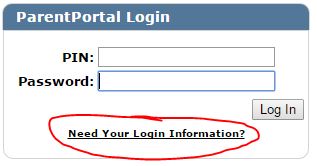 Go to the ParentPortal login page
Click on "Need your Login Information?" (see image on the right)
Enter your email address.
If your email address is on file, your request will be processed.
Error messages explained
No Active Students - You may see this error before the beginning of the school year. If classes have not started, the ParentPortal may not be Enabled for parents yet. If classes are already in session and you receive this message, please email the Help Desk for assistance and indicate that you received this message.
Email Associated with Multiple Accounts - If you receive this message, chances are that both parents/guardians are using the same email address. The system does not know which account to send the password to, so it gives you an error message. Please email the Help Desk for assistance and indicate the error message you received.
Unable to Process Request - That email address is not associated with a student account. Please email the Help Desk and we will send you the information via US Mail. You may also request to add your email address to the school to update your records. Please contact your student's school for the process required to make that change.